Presented by



Peterborough Motor Sports Club
presents the 2019 Burnt River Rally Sprint
2019 Shown will be updated to 2020 when available
Supplementary Regulations November 2, 2019 Burnt River Ontario
1) Name of Event
"2019 Burnt River Rally Sprint"
2) Event Officials:
Organizing Club
Peterborough Motor Sports Club
PO Box 131
Peterborough, Ontario , K9J 6Y5
Organizer
Peter Watt pwatt45@outlook.com
Clerk of the Course
Pete Gulliver pete.gulliver@nexicom.net
3) Jurisdiction
Rally Sprints are held under the 2019 National Rally Cross and Rally Sprint Regulations (RCRSRs – section 29) and the current National Rally Regulations (NRRs) of the Canadian Association of Rallysport (CARS) and any subsequent Bulletins, as well as the current Rally Sport Ontario Rally (RSO) Sprint regulations, the Ontario Rally Sprint Championship (ORSC) Rules and Regulations, and these Supplementary Rules and Regulations. These publications are available from the CARS and RSO offices and website listed below:

Canadian Association of Rallysport
Box 200 Turner Valley, AB
T0L 2A0
+1 (855) 640-6444
office@carsrally.ca
www.carsrally.ca

Rally Sport Ontario
17 Greystone Crescent
Georgetown, Ontario
L7G 1G8
president@rallysport.on.ca
www.rallysport.on.ca
4) Event Description
The 2019 Burnt River Rally Sprint will be comprised of 8 stages in total with 2 Legs for a total of approximately 36 km. There will also be less than 1.5 km of transit included in the route
5) Schedule
| | | |
| --- | --- | --- |
| Final Day to confirm entry | Friday Oct. 25, 2019 | 6:00 pm |
| Venue Opens | Saturday November 2, 2019 | 6:30 am |
| Registration | Burnt River Off Road Facility Shelter | 7:30 – 8:30 |
| Recce Meeting Brief note writing and control procedure training | Shelter | 8:40 – 9:10 |
| Scrutineering | | 8:30 – 10:00 |
| 2 Pass Recce | | 9:15 – 10:15 |
| Venue Gates Closed (No Access) | | 10:00 am |
| Drivers' Meeting | Shelter | 10:20 am |
| Leg 1 Start | | 10:45 am |
| Service and Lunch break | Approximately 1 hour | 12:45 – 1:45 |
| Leg 2 Start | | 1:45 pm |
| Leg 2 Finish | | 3:45 pm |
| Awards | Shelter | 4:00 pm |
| Venue closes | All vehicles and garbage to be removed from the property | 5:15 pm |
6) Entries
Information on series entries and any available event opening positions is available on the Ontario Rally Sprint Championship Facebook page: (www.facebook.com/ontariorsc)
Event entries are capped at 15, but if fewer than 15 are confirmed by Friday Oct 25, at 18:00, other competitors wishing to enter the event for "shakedown" purposes are welcomed in the exhibition class for a fee of $300. (Tall Pines in 3 weeks)
7) Vehicle Classes
Classes are 4WD, 2WD. and Exhibition. (No Championship scoring or trophies in Exhibition Class)
8) Start Order
The organizer will place competitors in an appropriate starting order. The start order will be announced shortly before the start of the event and posted on the official notice board.
9) Competitor Eligibility
Eligibility is as per CARS GCR&R 29.3.1, Eligibility of Crew.

Both driver and co-driver must have a Rallysport Ontario Rally Sprint license or a CARS performance rally license. Arrangements for a license must be made in advance of the event; contact darrylmalone@yahoo.com for a RSO Rally Sprint license.

All team members and team support personnel must sign the event insurance waiver.
10) Vehicle Eligibility
As a minimum, all vehicles must comply with current CARS Rally Sprint Regulations and have a current CARS log book or RSO Rally Sprint log book. RSO Rally Sprint Logbooks will not be issued at the event. Competitors wishing to receive an inspection for logbook purposes should arrange this with their local scrutineer prior to the rally.
Vehicle Eligibility Self-Declaration
A signed, self-declaration must be submitted at the technical inspection that declares that the competing vehicle is a) road worthy and b) that the following items are operating properly:
Brake lights; Horn; Wipers; Brakes; Exhaust.
The scrutineer may choose to verify compliance with any aspect of the self declaration.
11) Safety Equipment
As outlined in NRR 27.3.3 Driving Suits are recommended, but not mandatory
12) Recce
We will be conducting convoy recce for one pass each direction. then open recce or remaining time as per schedule. Two-way traffic may be encountered on portions of the route.
During the reconnaissance, competitors must comply with CARS requirements and these regulations including bulletins. Sliding of the vehicle, failure to remain in the proper lane, aggressive driving, speeding, backing up on a stage road are not permitted. The maximum speed limit on a stage road during reconnaissance is 50 km/h unless otherwise posted lower.
Competitors guilty of any of the above infractions will be assessed the following penalties: First offence a Fine (minimum $50) plus a meeting with the event organizer and/or Clerk of the Course. Second or subsequent infractions will include a fine (minimum $100) and possible exclusion from the property.
13) Scoring
Scoring will be based on-stage times, following NRR 15 and Ontario Rally Sprint Championship Rules and Regulations. This event will use electronic scoring in a web based infer-face. Stage scores will be available in line shortly after each stage. Route cards will be filled in by marshals, but contrary to normal rally rules, they will be for information only. This is to allow competitors to assess if penalties could have been assessed.
14) Restart
Competitors will be allowed to restart in the next stage as determined by the Organizer or Clerk of Course. The time for each missed stage will late time plus one minute. Vehicles suffering mechanical or other physical damage must be cleared by the series scrutineer.
15) Headquarters and Service Area
The service area will be located in the large field at the end of the access road. Service areas must be kept well back from the access road, behind the marker pylons as the access road may be part of the stage road. Headquarters is located in the picnic shelter near the snack-bar and port-a-potty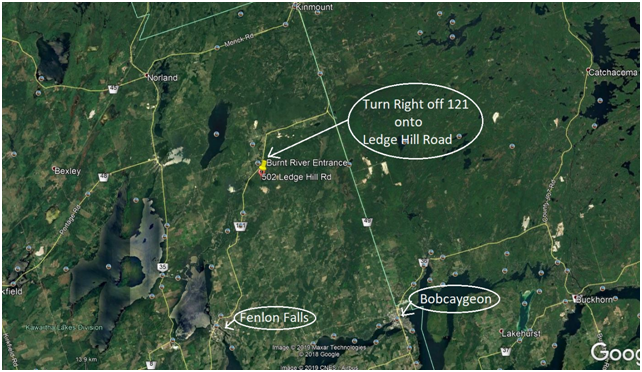 16) Directions
From Toronto:
401 East to 35-115.- North on 35 for 48 km to Lindsay (TS) – Left on 7 for 5.3 km – Right on 35 for 16.56 km. – Right onto 121 for 37.3 km. Turn Right onto Ledge Hill Rd. Burnt river on your left .4 km
From Ottawa:
Highway 7 East past Peterborough Fowlers Corners Exit – Follow 7 West to Lindsay. From intersection of Hy 35 South, continue straight picking up the directions from above to follow 35 North